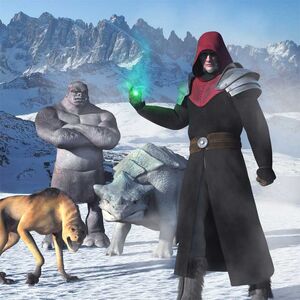 Rawal
is one of the seven remaining members of the
Shaper Council
, and is met in
Geneforge 5
. He is the first Shaper the player character from that game meets, and he is considered to be extremely powerful. Throughout the beginning of Geneforge 5, the player character is sent on missions by Rawal, largely due to the fact that he has a control tool, which can be used to kill the character, located in the character's chest. In addition to being a Council member, he is known as the ruler of the
Whitespires
and head of the
Foundry
.
Personality and Traits
He is typically called Lord Rawal, and is of the Shaper Class. As par most of his kind, he is arrogant, but, he is not nearly so as most of his kind. He is also very clever and manipulative, and a brilliant politician, using the rebellion and turning the council members against each other. His main goal seems to be taking over everything, and he is on his way there. He is more of a moderate shaper, even tolerating the idea that someone who isn't a shaper could learn shaper arts, as he allows the main character to train under the Shapers in the keep. He also tends to keep people around who are very efficient, and is very political in the fact that he will keep someone he sees as a useful tool alive until he no longer needs them.
Ad blocker interference detected!
Wikia is a free-to-use site that makes money from advertising. We have a modified experience for viewers using ad blockers

Wikia is not accessible if you've made further modifications. Remove the custom ad blocker rule(s) and the page will load as expected.