Reddit - 2015
Back in 2015, creator Jeff Vogel talked in a Reddit AMA about the possibility of a Geneforge remake in the coming years, with new art, possibly a new engine, and new additions to the game to fix the "weak points".
.
.
.
.
.
.
Reddit - 2016
More recently, in September of 2016 Jeff Vogel held a Q&A session on Reddit following his release of Avadon 3: The Warborn. In this Geneforge was mentioned a few times with plans for his remake in the future. From his 5-Year-Plan, he has three projects he will be working on, Avernum 3, an as-of-now unnamed series, and finally a remastering of Geneforge.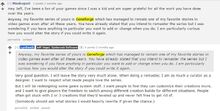 Ad blocker interference detected!
Wikia is a free-to-use site that makes money from advertising. We have a modified experience for viewers using ad blockers

Wikia is not accessible if you've made further modifications. Remove the custom ad blocker rule(s) and the page will load as expected.