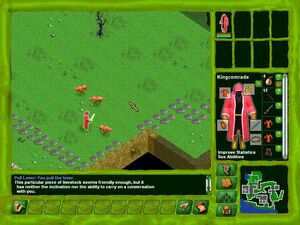 This is the first area in Geneforge the character finds when they land on Sucia Island. It has been abandoned by all factions, but more importantly, it lacks a boat - meaning you cannot leave.
Exits
The Abandoned Vale
Quests
Get Off Sucia Island - The player is shipwrecked and manages to arrive on the docks of Sucia Island. With no boats on the nearby docks, the player must travel inland to find a way off the island.
NPCs
Friendly
Ornks (10) - give meat when killed.
Hostile
None
How to access free travel
Reach the entrance to the Abandoned Vale
Items
bukler
javelins
vest
chitin armour
Special Items
Docks Key - It is found in a nearby building and is used to open a locked gate further down the road.
Canisters
Firebolt
Ad blocker interference detected!
Wikia is a free-to-use site that makes money from advertising. We have a modified experience for viewers using ad blockers

Wikia is not accessible if you've made further modifications. Remove the custom ad blocker rule(s) and the page will load as expected.